Back
How do the UK Lotto winners spend their money? Part I
We continue to talk about British National Lottery, which celebrated the twentieth anniversary last month. British Dailymail found people who managed to win the largest UK Lotto jackpots during the lifetime of the lottery. The millionaires told the newspaper, how their lives changed after the win.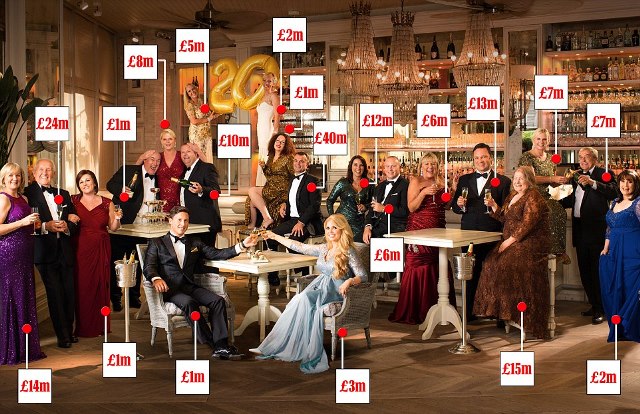 Who? Elaine Thompson, 58 years old, North Shields
How Much? £ 2,704,666
When? December, 1995

The woman said the best thing that brought her family the prize was the opportunity to pay the tuition at the University for her daughter and son. Elaine's children are the first people with higher education in her family. Three years ago the family bought spacious but fairly modest house. The couple said they wouldn't want luxury, and chose a house that could be completely cleaned up in a day. The only extravagant purchase the Thompsons made was a racehorse named Sicknote.

Who? Deana Sampson, 52 years old, Sheffield
How Much? £ 5,439,681
When? October, 1996

Before Dean won 5 million pounds, she had lived in a municipal house and worked as a mobile hairdresser. The woman brought up her daughter alone and barely made all the ends meet. Miss Sampson said the winning has changed her life completely. Deane remembers a difficult life without money, so invests the winning wisely now, for example, in the lingerie business and holiday houses.

Who? Mark Brudenell, 50 years old, Stockton-on-Tees
How Much? £ 916,915
When? February, 1997

While watching TV, Mark learned that he won a fortune. The next day the man went to a Motor Show to choose a brand new Jaguar. Three years later, Mark had a fleet of luxury cars. Mister Brudenell soon felt exhausted of his idle life. After three years of endless travel and shopping man took up the case again and opened a glazing business. Meanwhile, his wife, a fan of Robbie Williams, continues to travel around the world and stop wherever her idol gives concerts.

Who? Roy Gibney, 60 years old, Grimsby
How Much? £ 7,500,000
When? July, 1998

When Roy won seven and a half million pounds, he began to buy luxury items and even incrusted the bottom of his pool with his lucky lottery numbers. The man didn't work for 14 years, but got bored and opened sheet metal business. Now Roy works as a mechanic in his own company and has only one car: «The man can drive only one car at once, so there is no need to buy ten».

Who? Jackie King, 58 years old, Grimsby
How Much? £ 14,003,369
When? November, 1998

Jackie divorced right after the win and now grows up two children alone. The woman moved into a spacious house with six bedrooms, but did not transfer her children from a public school to a private one. Jackie considers the purchase of a cocker spaniel, which cost her £ 100 as the best investment. Miss King says that she still wants to pinch her hand, when looking at her beautiful house. She still can't believe in her happiness.

Who? Dean Allen, 40 years old, Essex
How Much? £ 13,861,061
When? August, 2000

Dean Allen became a millionaire at a fairly young age, at the age of 26. After the winning the man bought a suit for a press conference and changed the old Ford on his dream car — Porsche 911. Dean married his girlfriend, moved into a spacious house and quit his job. The millionaire now spends time with his family, wife Louis and two children.

Who? Nikki Otterburn, 42 years old
How Much? £ 2,216,029
When? November, 2001

After the winning Nikki broke up with her boyfriend, and is still single. The girl learned about the winning on TV when conducted the last class in the fitness club, where she worked as an instructor. Nikki, who invested the money and gets £ 35,000 commission annually, continues to dress in Morrisons. She bought a huge house with stables and arena, got horses and teaches at an equestrian club.

Who? Malcolm Wilkins (Malcolm Wilkins), 54 years old
How Much? £ 10,166,103
When? January, 2002

After the winning Malcolm divorced his wife, bought his brother Chris a Mitsubishi, and chose a practical Mondeo Estate for himself. The man says that his mother dreamed of a cottage with roses at the entrance and to go round the world trip. But, unfortunately, she died before Malcolm became a millionaire. In memory of his mother the son bought a cozy cottage, planted roses at the entrance and went on a journey. The man has made 29 cruises already and every time he thought, «My mother would have loved it».

Who? Alex Dyer, 60 years old
How Much? £ 5,957,937
When? December, 2003

Alex is one of a few millionaires who left the country and went to live in Spain. The woman is living in Andalusia now together with her new husband, Gary. She survived the tragic story and claims that money can't protect against losses. In 2012, a woman along with her previous husband John bought a villa in Spain. When Alex was at home in England, her husband died unexpectedly. Woman grieved the loss and bought a horse to escape from the unpleasant thoughts.

Who? Thea Bristow, 60 years old
How Much? £ 15,000,000
When? July, 2004

Thea Bristow has lived with her husband and two children for six years after the winning happily, until Thea's husband died. A woman has an active life; she became a chairman of her favorite football team Torquay United.
Why Lotto Agent?
Easy payments

Security

Best deals

24/7 Support
We paid out to winners:
$ 69.809.099
Over 6.390.270 winnings worldwide!