Back
How to pay for a lottery ticket by credit card or bank transfer from India?
Spark is a payment system created specifically for the people of India who want to pay for goods and services with a bank card or a bank transfer. It's available in two states: Maharashtra and Karnataka.


Step 1
Fill in an electronic ticket form and click on the orange "Confirm" button.
Step 2
Click "Spark", "Indian Cards" or "Indian Banks".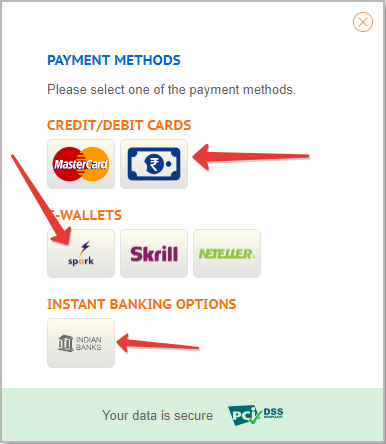 Step 3
Register: choose the state in which you live (Maharashtra or Karnataka), then enter your phone number and password. Press "Login".


Step 4
According to the new requirements of Spark, you need to verify your identity by providing one of the KYC-documents. Don't worry, it only takes a couple of minutes.

Click "Click here to submit KYC".


You'll be offered a few options to verify yourself: e-signature, photo, PAN-card or address proof.

The easiest way to verify yourself is to put an electronic signature. Click on the "Submit" button opposite this option.


Add your signature by drawing it below, tick "I confirm that this is a legal representation of my signature" and click "Add signature".


If you wish to raise payment limits, upload your photo to the Spark system. To do that, click on the "Submit" button opposite the "Photo".


Add your photo by clicking "Upload" and click "Submit".


To increase your payment limits, you can also add your bank card to the system. To do that, click on the "Submit" button opposite the "PAN".


Make a picture of your bank card, upload it to the system and click "Submit".


You can also confirm your address for better payment performance. To do that, click on the "Submit" button opposite the "Address proof".


To verify your address, upload an aadhaar card, passport, voter ID or a driving license to the system. Click "Submit".


Step 5
After your identity is verified, choose the "Card and Netbanking" section. Tick "I agree to the Terms and Conditions" and then click "Proceed".


Step 6
You can be asked to confirm your authorization details once again.

Step 7
Enter your payment details (a card number, expiration date, CVC/CVV-code, etc.).

Step 8
Verify your payment with a code (OTP): it'll be sent to your registered mobile number. Click "Proceed".




Success! Your payment has been processed and a lottery ticket has been purchased.
Why Lotto Agent?
Easy payments

Security

Best deals

24/7 Support
We paid out to winners:
$ 90.248.797
Over 7.067.070 winnings worldwide!