Back
How to pay for a lottery ticket using a bank card?
A credit card is the fastest and most profitable solution to pay for lottery tickets online. After the first purchase you can pay for any lottery ticket at the single touch of the «Confirm» button. Furthermore, the payments by credit card are without any commission.

Once you have filled in a lottery ticket, you need to perform a few simple steps:


Step 1
Click on the "Confirm" button on the lottery page.

Step 2
You will see a form to enter the details of you card. We currently accept all major types of bank cards: Visa, Visa Electron, MasterCard, Unionpay, JCB, American Express, and Discover. In order to pay for the purchase you need to enter the following payment details: card number, expiry date and card verification CVV/CVC-code.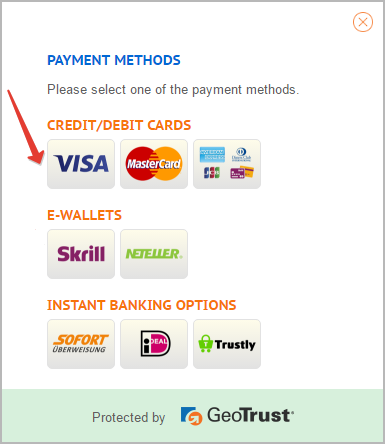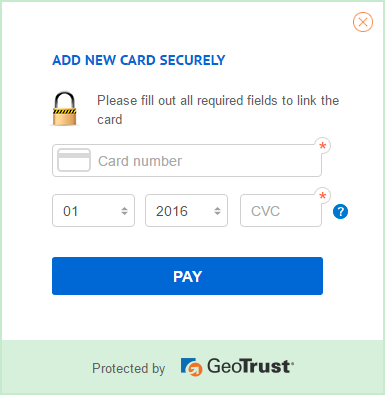 Note! It's absolutely safe to make payments on Lotto Agent thanks to the use of a 256-bit certificate from Comodo which eliminates the use of your personal and financial data by third parties.

Here is an example where you can see the necessary card details of Visa, MasterCard and Discover.





CVV/CVC-code of the American Express cards is on the front side and consists of 4 digits.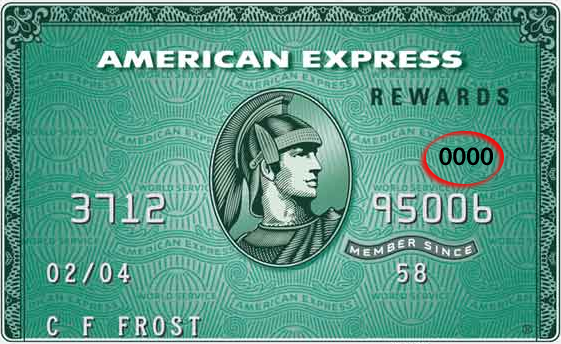 Step 3
You will be automatically redirected to your bank's web page to verify whether the card has been activated to access the 3-D Secure service. Verify whether the details shown on the screen are correct. Enter your iPIN or password to confirm the purchase.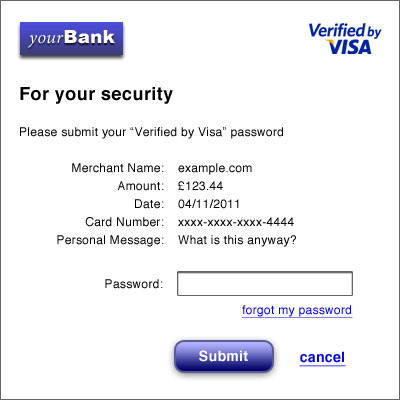 Step 4
1) If your payment has been processed, you will see a message that your ticket is purchased.

Now you can pay for the subsequent tickets through the "Confirm" button on the lottery page without re-entering the card details.

2) If your payment is not completed, you will see an error message.

Fail to pay may be due to the following reasons:

— You have entered wrong CVV/CVC-code or expiry date of the card;
— Validity of your card has expired;
— Your account has insufficient funds;
— The bank that issued your card prohibits transactions online.

In case of the failure you can:

— Check the card details and the availability of money in the account and try to add the card to your account later;
— Check if your card is valid;
— Contact your bank and clarify the possibility of adding your card;
— Add another card.

Also you can use the alternative payment method: a virtual card issued by the service Entropay. To use this method, you just need a bank account. Entropay is a reloadable virtual Visa card that can be used to make any online payments as if you use normal Visa bank card. Please learn how to create a virtual Entropay card in a few simple steps here.

***

Once you have made the first payment on our website using your bank card, you can not only buy lottery tickets through the «Confirm» button without re-entering the card details, but also make a deposit to your account.


1) Go to the «Add funds» section.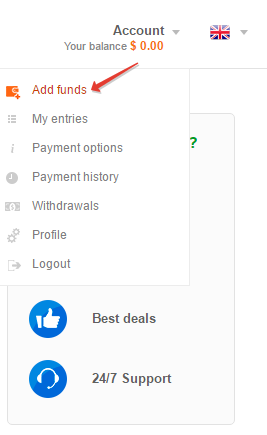 2) Enter the dollar amount that you would like to add to your account, and then click «Add». The minimum deposit is $ 15, the maximum is $ 300. Your account will be immediately credited.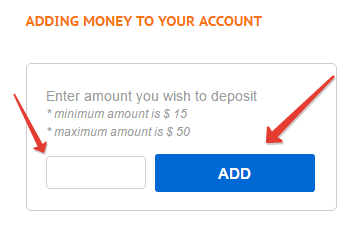 If you have any questions, please contact our Customer Support Service.


Why Lotto Agent?
Easy payments

Security

Best deals

24/7 Support
We paid out to winners:
$ 23.675.653
Over 1.912.620 winnings worldwide!