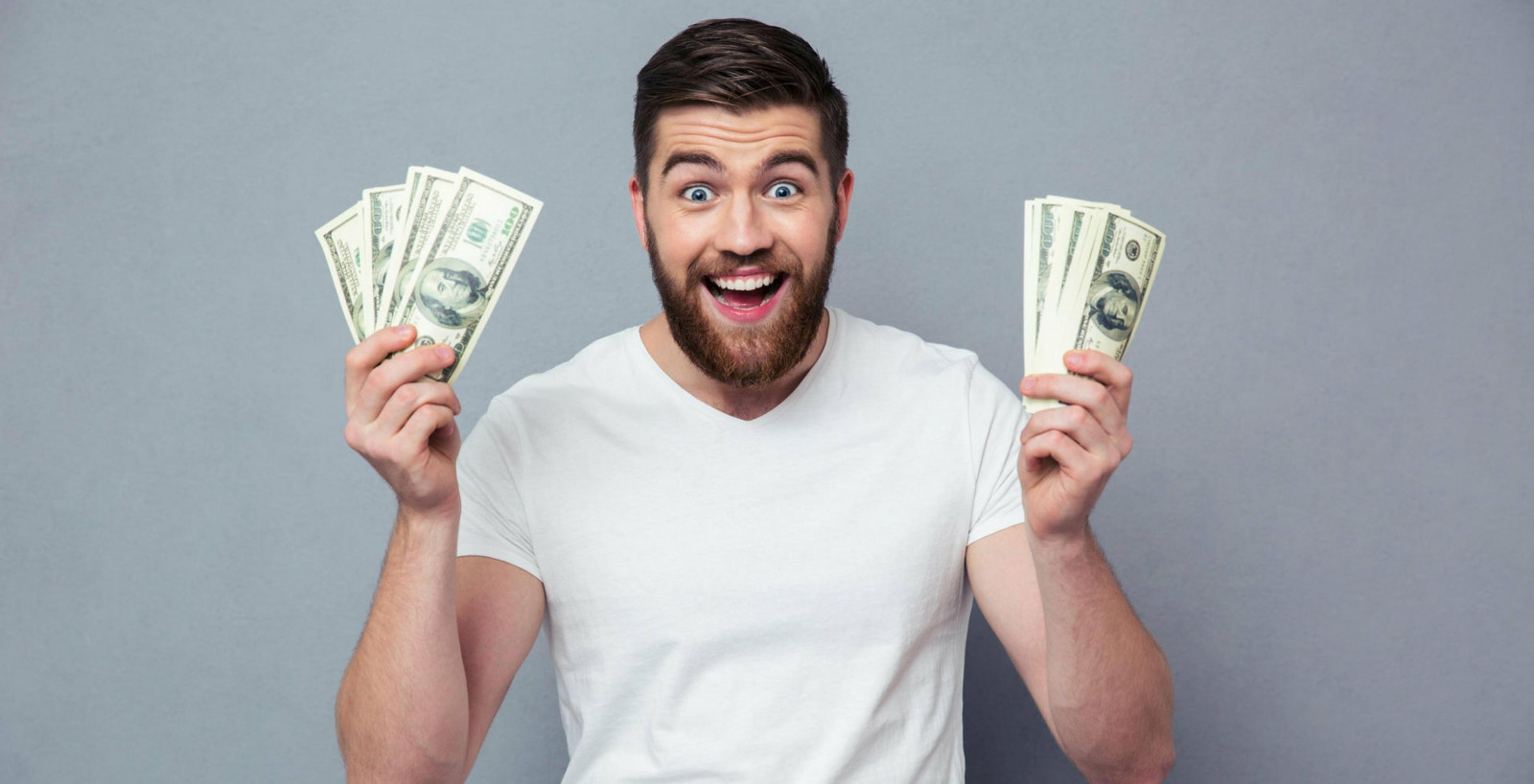 We decided to make it a tradition to interview some of our winners and get to know them a little better: who they are, what they do for a living, and what inspires them to play. It's nice to get a little closer to each other! As you'll see, all our users are so different.
Recently one of our players, Nurlan D from Kazakhstan, has struck it lucky and won the California SuperLotto Plus lottery's nice prize of $ 5.345,20 on January 30th. The lottery is held on Wednesdays and Saturdays. Our winner had already won prizes of this lottery before, but those were much smaller amounts.
This time Nurlan matched 5 numbers out of 6. He chose the following combination of numbers: 1-6-13-19-45 and an additional number 11, which let our today's hero down. The winning ball was 12. If Nurlan had matched this number, too, his winnings would have been $ 16 million.
Nurlan happily agreed to answer our questions.
— How did you come up with the idea to play the lottery? What inspired you to take this step?
The idea to play the lottery came to me in 2019 on New Year's Eve after reading an article about the lucky guy who won the Jackpot. And I thought to myself, 'Why not try it too?'. I wanted to play something like the lottery held in Dubai.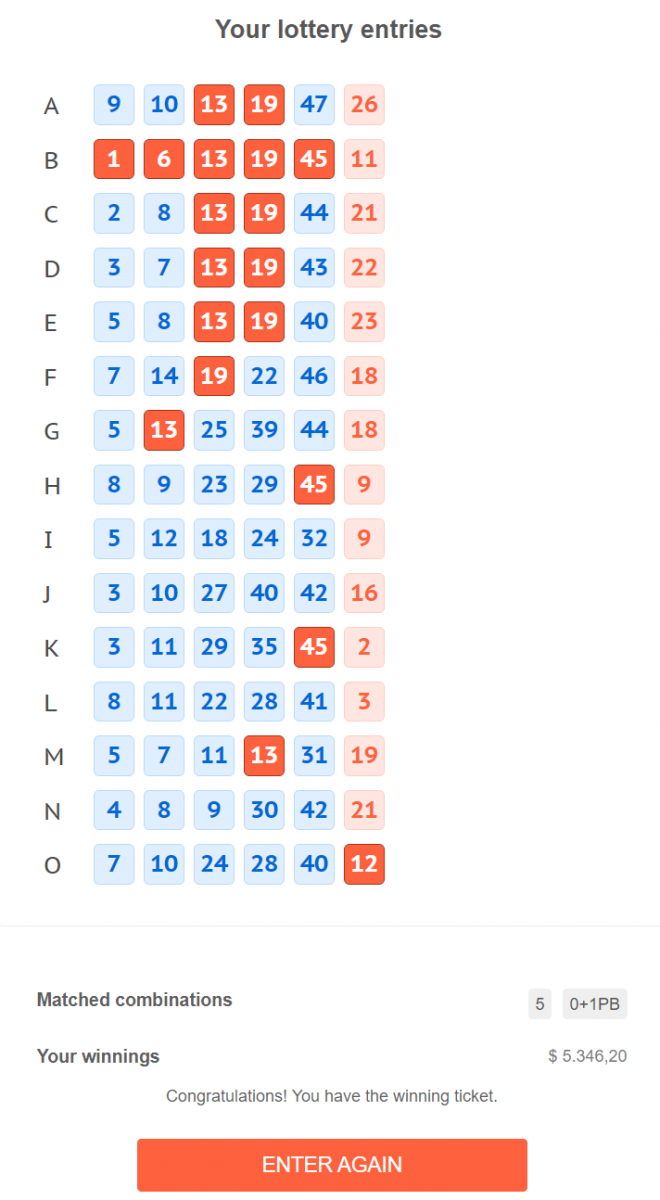 Screenshot from Nurlan's account. The matched draw numbers are highlighted in orange.
— How did you find our website?
I started searching for lottery sites on the Internet. Since yours was in the first one, I read some reviews, and most of them were positive, so I decided to register and try.
— Are you satisfied with our service: our customer support, the website itself, the variety of lotteries? What did you like and why, and what needs some improvement?
In general, I am satisfied with the service. The feedback is excellent. Regarding other points, I don't have any complaints yet.
— Why did you choose the SuperLotto Plus lottery?
It wasn't on purpose. I just chose the nearest draw date because I did not want to languish in anticipation. :)
— Do you have any winning strategies?
There are no strategies. I pick numbers that are related to my life.
— What are you going to spend your winnings on?
If I am lucky enough to become the Jackpot winner someday, I will invest in my children, vacations, and help those in need.
— Will you continue to fight for the Jackpot?
Hope springs eternal! :) So yes, I'll play and more than once.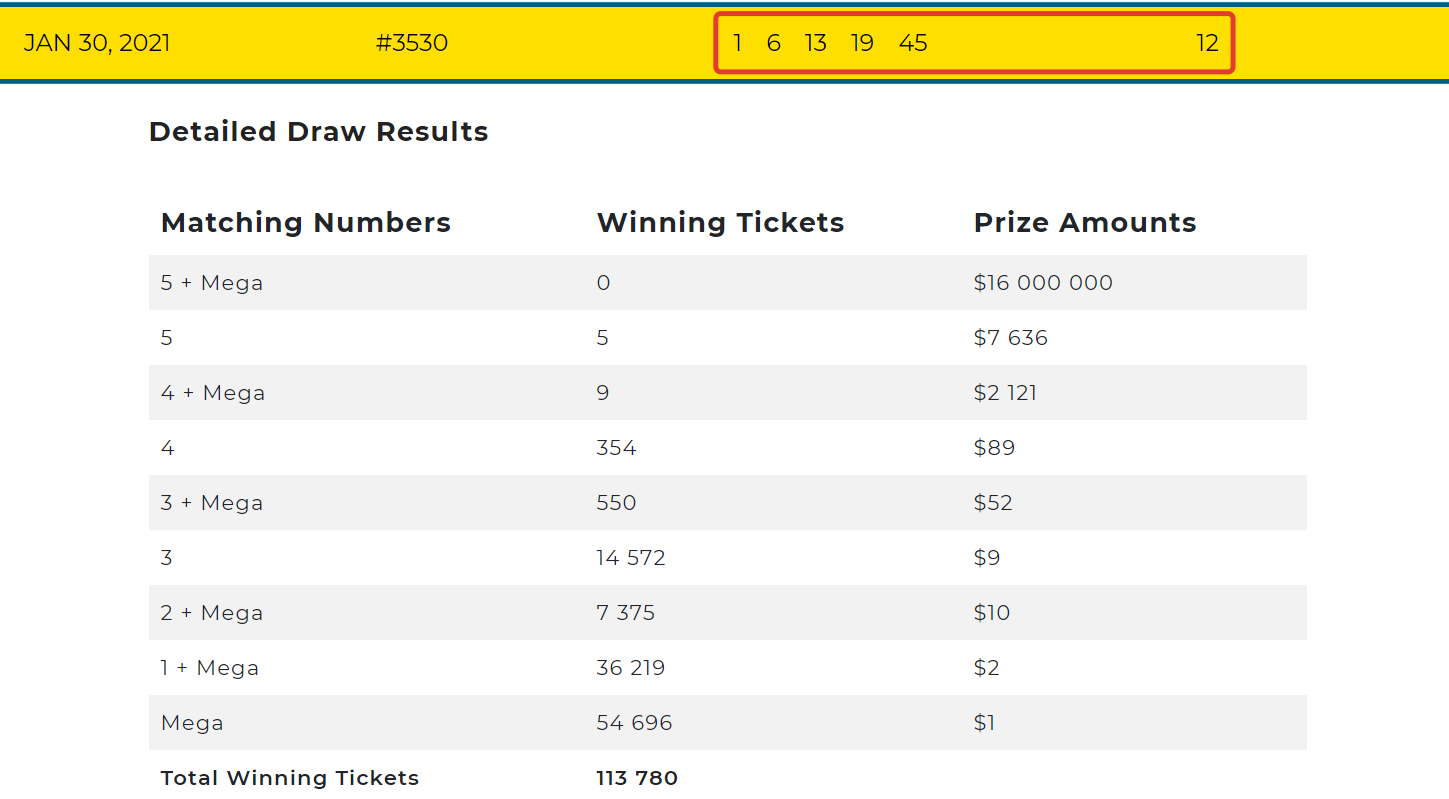 SuperLotto Plus Results from 01/30/2021 (screenshot from the official website)
***
Did this story inspire you? Play right now, then! The popular MEGA Millions lottery with an incredible Jackpot of $ 515.000.000 will hold its' draw very soon!