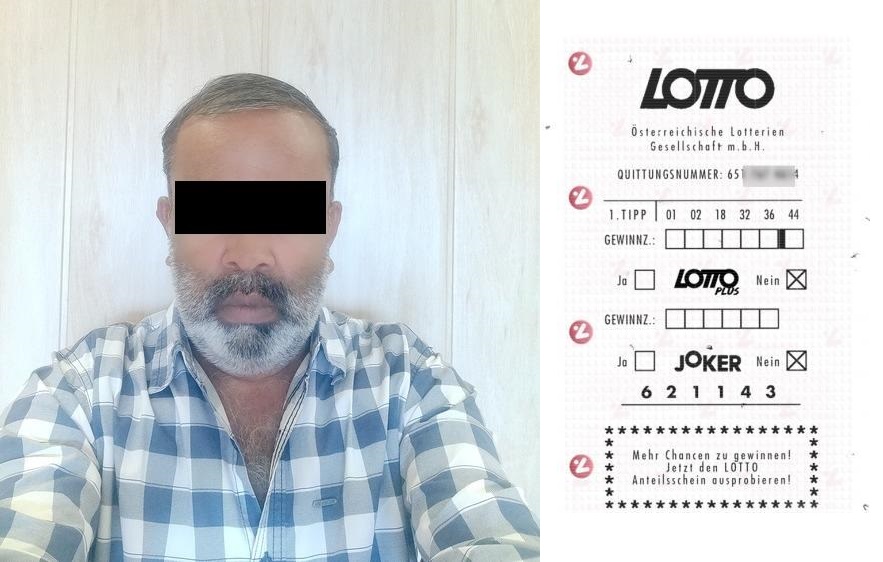 In this section, we traditionally ask our winners four important questions. On September 4, a player from Maharashtra (India) won $1608.32 in Lotto Austria. He didn't manage to match just one number to hit the Jackpot. This is not the man's first win. He has previously won smaller amounts and has already withdrawn money to Skrill and a bank account.
Our winner recorded an interview for us and provided a photo, but asked to remain incognito. We congratulate Mr. S.S. on winning the lottery and wish to hit the Jackpot so that he can fulfill his dreams of making education more accessible to women in India.
— Tell us about yourself. What are your hobbies, how do you spend your free time?
— Hi! My name is S.S. I work for a FMCG distribution in Maharashtra, India. My hobbies are reading, especially fictional novels, watching YouTube, and to travel.
Listen to the interview recording:
— What inspired you to start playing? How did you find our website?
— Two years back, I was browsing things about lottery, and I got your website, Lotto Agent. At first, I thought that it was a fake website because of all those scams, you know. And I've studied the site for a month or two before placing any bets or purchasing lottery tickets.
— Tell us about your biggest win so far: in which game, how much you won.
— Yes, initially, I got lucky for a small amount, which I used to purchase bets and tickets again. But once I won $50 dollars. I withdrew it, but back then, your site was not personally treating this, direct transfers for bank accounts, probably, in India. And I got it to my Skrill account. And next time, some six to eight months back, I won around 40 dollars for the same numbers, which I have now matched, 5 numbers. And after the chaos process, they made the direct transfer to my bank account.

I particularly thank miss/madam Marie Lynn (our customer service representative, ed.) for this. After a few emails, I got a direct transfer to my account. This website is genuine. And I can always recommend it to my friends, and I show how this website, Lotto Agent, works. I try to guide them for a chance of winning the Jackpot. The biggest game I won was in which I got $ 1608 of Lotto Austria and in which I got 5 numbers matched. I do the progress. I want this. And I'm excited because of this huge win in Lotto Austria in my life. I want this.
— Imagine hitting a huge Jackpot. What will you spend the main prize on?
— Probably I may win a Jackpot also. I hope, with God's blessing, I will be able to match the Jackpot numbers. And, well, after winning the Jackpot, what would I do with the amount I won? Of course, I will give some portion for my life, and I would like to travel around the world to see different cultures. And, probably, I'm going to give some money for philanthropy causes, especially for the studies for which we can encourage women to study or them go to India to study.

Thank you, Lotto Agent, and thank you, Lotto Austria! I want it. Thank you. I especially thank Marrie Lynn for this coordination. Actually, when I entered these numbers, and then at the last minute, I entered them and got lucky! Thank you! Thank you very much!
***
We congratulate our lovely winner on his success and invite you to play the famous MEGA Millions, which will draw 300 million dollars pretty soon!