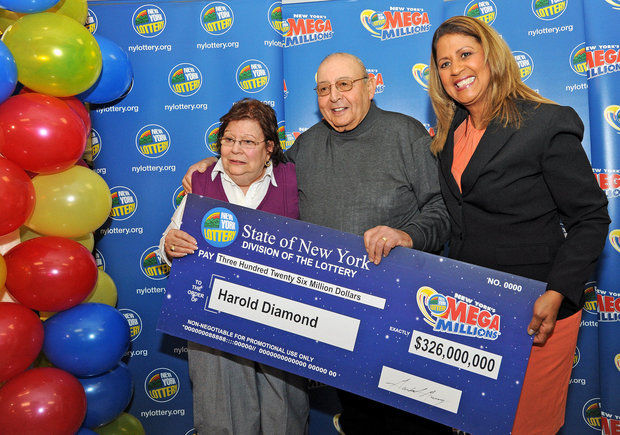 A few hours ago it was announced that a former school principal and his wife won the largest MegaMillions jackpot in the history of New York.
Harold and Carol Diamond chose to take a lump sum payment of $ 197,456 807. The total prize was $ 326 million, however, to take the full amount, the couple had to accept the fact that the money will be paid to them in equal parts during 30 years. After the taxes the Diamonds owed $ 130,676 438. This is almost three times less than the original amount, but it's enough for several generations of the Diamonds not to worry about financial situation throughout life.
In honor of Election Day the Diamonds decided to have dinner in Middleton, but on the way to the restaurant the couple was caught by bad weather. Carol insisted to stop and it was a wise decision! To wait out bad weather and to kill time, Harold and Carol ate sandwiches at Subway, and then spent $10 and bought lottery tickets at the nearest gas station.
The Diamonds learned about their victory the next day, when the 80-year-old Harold went to play golf with his friends. After 9 holes the buddies decided to have a snack at a local coffee shop, where a staff member told them that a huge amount of money went to someone who bought a lottery ticket at Valero gas station. At home Harold checked the winning numbers with the numbers on the ticket and they all matched.
The couple feels very happy, but cannot quite believe that they own so much money. But these people have earned this award, because they worked for the good of society for many years. Harold worked as a school principal during 39 years and retired in 2005. His 75-year-old wife Carol retired a year earlier, she taught mathematics for 36 years.
At this time the winning numbers were 9, 15, 24, 39 and 41. Special Mega Ball number was 1.
_________________________________________________________________________________________
You too can share the joy of owning millions with Carol and Harold! The largest jackpots of this week have MegaMillions, PowerBall, La Primitiva and EuroJackpot.