Back
The Lotto Agent player hit $ 35.000: "I wasn't even going to participate!"
This Wednesday, Sergey L. from Russia won $ 35.000 in the popular American Powerball lottery after he'd bet on lottery results. The winner matched five numbers out of six, thus winning the third-largest lottery prize. If Sergey had managed to "crack" the winning combination completely, his winnings would be $ 231.000.000! Just one number separated the player from the amount that would automatically make him one of his country's richest people. However, he is beyond happy over the amount he has won.


Sergey recorded a short emotional video and gave us an interview:


To enable subtitles, click on the "Settings" icon in the lower right corner of the player, then click on the "Subtitles" line and select the desired language.


— Let us get to know each other. What is your current profession? What are your hobbies? How do you spend your free time?


I work as a chief specialist at a manufacturing enterprise, my wife is a doctor, and we also have a little son. We are like all ordinary families: we do sports together; we go out into the countryside for a barbecue. We read new books. I am studying English online now. We love listening to music and watching movies if we have the time. Although we usually do not have any, the big city life does not give us a chance.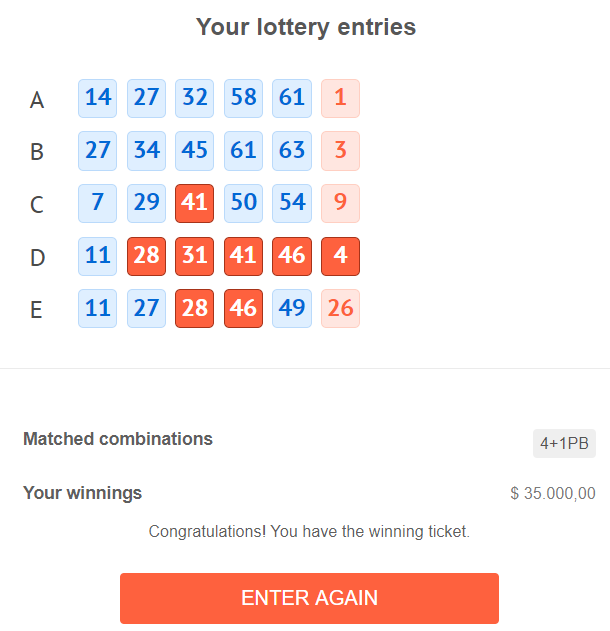 Screenshot from the winner's account. The matched numbers are highlighted in orange.


— How did you start playing the lottery, what inspired you? Do you have a winning strategy?


A while ago, I tried playing and gave up after a few tries. This time, I decided that wasting my time on some local games was pointless, so I decided to try my luck with Lotto Agent after reading great reviews about you. The strategy is simple: I set a limit for myself, which I would not mind spending in a month. Then I considered the main draws and decided to play two times a week, and that is it.



Official Powerball results dated from 02.12.2020 (on the right is a screenshot from the official video record)


There were small winnings, which I would spend on the next draw. The incredible thing is, I was not even going to participate in this particulate draw, believe it or not. Something came over me that evening, it just took five seconds, and the job was done. I even chose the numbers by easy-pick.


— What was your first reaction to winning? How did you feel? Have you told anyone close to you?


In the morning, as usual, I received an email notification (I have everything on my phone). Since there are a lot of small winnings, I thought to myself, ugh, won some pocket change again :) I opened it and did not believe it at first. I thought it was a mistake! Then I checked my account, and no, it was not a mistake! How I describe emotions when I saw $ 35.000? There is no way to explain :) IT SHOULD BE LIVED THROUGH! I didn't tell any of my relatives, because I like to make gifts and surprises. I want to wish everyone a Merry Christmas in a way they did not expect!!!


— Have you already figured out what you will spend the prize on? What will be your first purchase? How will your life change?


I will give part of the prize to people who need help and support. Then I will invest some money in securities. That is the plan! Believe in yourself, and may the force be with you!


***


We congratulate our wonderful player! Anyone can become the next big winner: today, the American legend MEGA Millions will draw $ 244 million. However, Powerball is on its' heels — tomorrow, players all around the world will compete for $ 243 million!
Why Lotto Agent?
Easy payments

Security

Best deals

24/7 Support
We paid out to winners:
$ 69.667.124
Over 6.362.820 winnings worldwide!