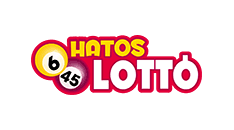 Closing in 0
Ft 0

Ft 0 Ft 0+

Please note!
Unfortunately, we don't accept entries for the draw at the moment. We start to sell tickets again soon. Please reach our Customer Support Service if you have any questions.
About Hatos lottó
The first ticket of the most popular Hungarian lottery Hatos lottó was bought in October 1988. Since then, the lottery has gained recognition across the country and has become popular even abroad! Hatos lottó is a lovely pleasure due to its attractive prices, untaxable prizes and the unique format of «pick 6 numbers out of 45».
The draws of Hatos lottó take place once each week on Sundays between 3.50pm and 4.15pm Budapest time.
Hatos lottó Jackpot has reached a huge amount of Ft 2,958,307,350 and was hit in September 2008! The initial Jackpot of the lottery is Ft 60,000,000 and goes up with every draw.
If there is no winner of the top prize, the Jackpot goes up with every draw up to 1 year. The top prize fund is then paid out amongst the next winning prize categories, and the lottery starts from the minimal Jackpot.
45 balls are drawn in the lottery.


Who can take part in Hatos lottó?
Using Lotto Agent you can play the famous Hungarian lottery and buy the ticket of Hatos lottó if you're 18 and above no matter what country you are from!


How to win in Hatos lottó?
The Hungarian lottery Hatos lottó has 4 prize categories: 3, 4, 5, 6 (the number of the balls matched). The amount of non-jackpot regular prizes is determined after each draw based on the totalizer depending on the number of tickets purchased and the amount of the total prize fund.
To win in Hatos lottó, you need to match at least 3 balls (prize category "3"). Good luck!


Taxation and prize reception
None of the winnings in Hatos lottó are subject to taxes.
Lotto Agent does not charge any fees with your winnings!
You can claim your winning as a one-time, lump-sum cash payment.