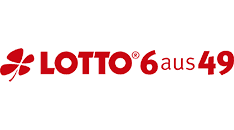 Closing in 0
€ 1,000,000+

Please note!
Unfortunately, we don't accept entries for the draw at the moment. We start to sell tickets again soon. Please reach our Customer Support Service if you have any questions.
About Lotto 6 aus 49
Lotto 6 aus 49 is one of the major national lotteries in Germany and one of the oldest lotteries in the world: its first draw was held over half a century ago, in 1955. Until recently, Lotto 6 aus 49 was a standard lottery with the format "pick 6 out of 49", but in 2013 the lottery acquired its own distinctive feature — a special ball Spielregeln.
The draw of the German lottery Lotto 6 aus 49 is carried out on Wednesday at 18:25pm (GMT+2) and on Saturday at 19.25 (GMT+2) in Saarbruecken.
Lotto 6 aus 49 Jackpot once hit record high of € 45,400,000! The starting Jackpot is as big as € 1,000,000 and comes up with every draw by € 1,000,000+ if there is no winner in the prior draw.
47 regular balls and 10 special balls (Spielregeln) are drawn in Lotto 6 aus 49. Please note that a single special number is picked for all lines.


Who can take part in Lotto 6 aus 49?
With the help of Lotto Agent you can play the German lottery Lotto 6 aus 49 and buy the ticket of Lotto 6 aus 49 if you're of full age regardless of country you come from!


How to win in Lotto 6 aus 49?
The German lottery Lotto 6 aus 49 raffles prizes in 9 prize categories: 2+1PB, 3+0PB, 3+1PB, 4+0PB, 4+1PB, 5+0PB, 5+1PB, 6+0PB, 6+1PB (the number of regular balls matched + the number of special balls matched). The amount of non-jackpot regular prizes is defined by reference to the totalizer after each draw.
It's easy to win in the Germany lottery Lotto 6 aus 49: just match at least one special ball and two regular balls (the "2+1PB" prize category) to obtain the minimum gain. Good luck!


Taxation and prize receprion
None of the prizes in Lotto 6 aus 49 are subject to tax withdrawals.
Lotto Agent does not charge any commission on your winnings either!
You can ask for your winning of Lotto 6 aus 49 as a one-time, lump-sum cash payment.
Protected by

Protected by

Forgot your password?
Already have an account? Log In