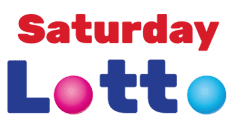 Closing in 321782
A$ 10 Million

A$ 10 mln A$ 13 Million

Draw result Saturday Lotto
Winning numbers
Prize breakdown
#

Matched combinations

Winners

Your winnings

1
6
6
A$ 974.297,53
2
5+S
80
A$ 8.254,25
3
5
1.115
A$ 896,35
4
4
58.617
A$ 25,25
5
3+S
159.072
A$ 13,75
6
3
808.989
A$ 8,25
Like other Australian lotteries, Saturday Lottery is not taxed.
See the winning lottery numbers of Saturday Lotto
Saturday Lotto is a popular Australian lottery, the first ticket of which was bought back in 1972. Since then, the lottery does not lose the title of one of the most beloved national lotteries at home and abroad! Saturday Lotto is an inexpensive lottery of the format "match 6 numbers out of 45". Moreover, it is not taxed! What can be a more profitable and inexpensive investment?
See the results of the Saturday Lotto game in this section. It's easy to check the Saturday Lotto ticket: just check the numbers on the ticket and compare them with the numbers in the lottery table. We store the results of the national Australian lottery for the previous several years.
On this page, you can view the archive of the results of Saturday Lotto. This information will help you analyze the results of the lottery over a long period of time and create your own winning strategy, which you can use wisely with the options "Subscription" and "Multiple Draw".