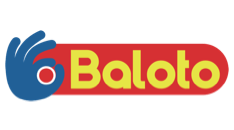 Closing in 127380
COP$ 10 Billion

COP$ 10 bln COP$ 20 Billion

Draw result Colombia Baloto
Winning numbers
Prize breakdown
#

Matched combinations

Winners

Your winnings

1
5+1PB
-
No winners
2
5+0PB
-
No winners
3
4+1PB
3
COP$ 2.528.921,00
4
4+0PB
64
COP$ 129.657,00
5
3+1PB
121
COP$ 59.435,00
6
3+0PB
2.096
COP$ 11.198,00
7
2+1PB
1.737
COP$ 10.792,00
8
1+1PB
17.947
COP$ 5.700,00
9
0+1PB
17.947
COP$ 5.700,00
Baloto prizes may be taxed in Colombia.
Baloto lottery results
The Colombian Baloto lottery attracts players with its exciting rules. To win the Jackpot, the player needs to match five numbers out of 43 and one Super Ball. These fun rules, as well as the fact that Baloto Jackpots can reach several tens of millions USD, have been successfully stirring up the excitement of players for several years.
Baloto draws are held twice a week, on Wednesday and Saturday at 11:00 PM local time. The prizes are divided into nine prize tiers: the Jackpot and secondary prizes, the last two of which are fixed. They are 5.700 pesos each. This number of prize tiers dramatically increases your chances of winning! The results of each draw are published shortly after an official end of the draw.
We also publish draw tables with a breakdown by the number of winnings in each prize tier. We remind you that to find out the winning numbers, it's unnecessary to visit the Lotto Agent website. After each draw, we will send you email notifications that include information about the Baloto draw results and the amount of your winnings. The winnings are credited to your account on Lotto Agent, and you can withdraw them using the means of payment with which the bet was paid.