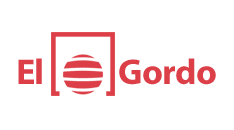 Closing in 49656
€ 16.000.000

Draw result El Gordo de la Primitiva
Winning numbers
The broadcast recording of the draw is not provided by the Lottery Operator.
Prize breakdown
#

Matched combinations

Winners

Your winnings

1
5+1PB
1
€ 6.287.849,26
2
5+0PB
1
€ 149.870,46
3
4+1PB
23
€ 1.184,75
4
4+0PB
239
€ 133,02
5
3+1PB
1.134
€ 32,04
6
3+0PB
10.706
€ 11,03
7
2+1PB
16.715
€ 5,43
8
2+0PB
159.210
€ 3,00
9
1+1PB
262.061
€ 1,50
10
0+1PB
262.061
€ 1,50
All El Gordo de la Primitiva winnings over € 2,500 are subject to federal tax of 20%. The tax applies to the difference between the amount of the winning and € 2,500.
Check the El Gordo results right in this section
The name of the national lottery El Gordo is translated as "a plump woman". The amazing lottery from sunny Spain got the name due to large Jackpots and generous secondary prizes! El Gordo is the oldest national lottery of Spain with a wonderful tradition to hold a special annual draw and pay out amazing prizes to winners!
Check the results of El Gordo online and browse the archive of lottery draws: the Spanish lottery El Gordo de la Primitiva has nine prize categories, so that you can win a minimum prize just when match a single ball.
If for some reason you don't have time to visit the site and check fresh results of El Gordo, we will send the winning numbers of the Spanish lottery by email, besides that in case of win we will credit the money to your personal account on Lotto Agent.