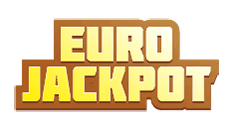 Closing in 44556
€ 62 Million

€ 62 mln € 162 Million

Draw result EuroJackpot
Winning numbers
Prize breakdown
#

Matched combinations

Winners

Your winnings

1
5+2PB
-
No winners
2
5+1PB
16
€ 151.258,00
3
5+0PB
17
€ 50.244,80
4
4+2PB
101
€ 2.819,00
5
4+1PB
2.251
€ 113,80
6
4+0PB
3.538
€ 56,30
7
3+2PB
3.132
€ 54,50
8
2+2PB
39.606
€ 22,20
9
3+1PB
71.533
€ 11,90
10
3+0PB
122.062
€ 11,10
11
1+2PB
185.877
€ 11,10
12
2+1PB
817.249
€ 6,60
Winnings may be subject to tax in the country of the lottery.
Learn EuroJackpot lottery results
The popular European lottery EuroJackpot holds weekly draws in the capital of Finland, Helsinki, and calculates the results in Germany and Denmark. The main prize of EuroJackpot is scooped more often that of other national lotteries, so that its Jackpot cannot reach astronomically large amounts, but you have all the chances to win a huge Jackpot of EuroJackpot, or pick one of 12 secondary prizes the smallest of which is approximately € 10.
If you have already bought a ticket of EuroJackpot, see the remarkable EuroJackpot draw online and check its results right in this section. You will notice that the large amount of money — € 50,000 or more — is scooped by 10 people on average in each draw! The latest EuroJackpot results appear on the site immediately after the official announcement.
Many EuroJackpot draws became a legend. For example, in 2013 the whole of Europe watched how a resident of Germany won a huge sum of money — € 46 million. Due to the fact that the EuroJackpot pool is formed with the help of ticket sales in more than one country, the Jackpots and the secondary prizes of the lottery are very impressive. Just select the required date to see the fresh EuroJackpot video online.