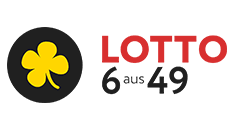 Closing in 82627
€ 7 Million

€ 7 mln € 14 Million

Draw result Lotto 6 aus 49
Winning numbers
Prize breakdown
#

Matched combinations

Winners

Your winnings

1
6+1PB
1
€ 17.473.595,80
2
6+0PB
2
€ 3.716.216,00
3
5+1PB
49
€ 20.675,00
4
5+0PB
408
€ 7.401,30
5
4+1PB
2.558
€ 327,40
6
4+0PB
25.663
€ 77,40
7
3+1PB
49.790
€ 34,00
8
3+0PB
518.578
€ 15,40
9
2+1PB
417.552
€ 6,00
None of the winnings in Lotto 6 aus 49 are subject to taxes.
Check the latest results of Lotto 6 aus 49 – the national German lottery
Beloved by the habitants of Germany Lotto 6 aus 49 has a "highlight" — a special ball Spielregeln which is selected among the balls range from 0 to 9. This is a distinctive feature of the national German lottery that sets it apart from the format "6 of 49".
See the drawing results of the German lottery Lotto 6 aus 49 right in this section. It's very convenient to check the Lotto 6 aus 49 ticket — just compare the numbers on your lottery ticket with the data in the table with the winning numbers above. We keep the lottery results for the past several years.
In addition, it's possible to watch video of Lotto 6 aus 49 online on the same page, as well as browse the archive of Lotto 6 aus 49 winning numbers. This knowledge will help you analyze the results of the lottery for a long period of time and create your own winning strategy.