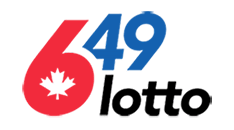 Closing in 118017
C$ 27 Million

C$ 27 mln C$ 47 Million

Draw result Lotto 6/49
Winning numbers
Prize breakdown
#

Matched combinations

Winners

Your winnings

1
6
-
C$ 15.661.218,20
2
5+B
3
C$ 87.379,10
3
5
81
C$ 2.696,90
4
4
4.600
C$ 90,20
5
3
90.254
C$ 10,00
6
2+B
66.053
C$ 5,00
7
2
627.614
C$ 3,00
None of the winnings in Lotto 6/49 are subject to taxes.
See the Lotto 6/49 winning numbers
The Canadian Lottery Lotto 6/49 fully conveys the character of its country. No complicated rules and nuances — Lotto 6/49 can be characterized as «simple» and «neat». The Canadian state lottery has very high chances of winning thanks to a simple scheme of the game "match 6 balls out of 49."
The results of each Lotto 6/49 draw are published shortly after the official announcement. But you don't necessarily move on to our website to see the winning numbers of Lotto 6/49. We will send a notification which includes the Canadian lottery winning numbers by e-mail.
Also, Lotto 6/49 has an additional Bonus Ball. Please note that when matching the Bonus Ball you may get the prize of the categories "5+B" or "2+B". The winners of the last category get the second largest after the Jackpot prize of Lotto 6/49.