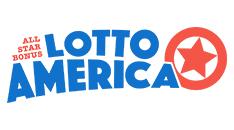 Closing in 331612
$ 2.000.000+
Draw result Lotto America
Coming soon
The broadcast recording of the draw is not provided by the Lottery Operator.
Check Lotto America winnings
Lotto America is held in the USA twice a week: on Wednesdays and Saturdays. It's interesting to note that the game has an additional option "All Star Bonus", which can increase all secondary prizes by 2, 3, 4 and 5 times. The game has great winning odds: 1 to 9.63.
Check your Lotto America ticket right in this section. The American lotto has nine prize categories, six of which are formed using a special Star Ball. The attractive American game can be won even if you matched just one ball (Star Ball).
Сheck the results of any Lotto America draw in various ways: for example, in this section, in the "My Entries" section, and also by email. For your convenience, we'll send the results of this inexpensive and reliable state lottery to your email address. Lotto America prizes will be credited to your personal account on our website.