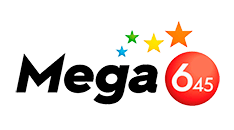 Closing in 57721
₫ 63,7 Billion

₫ 63,7 bln ₫ 127,4 Billion

Draw result Mega 6/45
Winning numbers
Prize breakdown
#

Matched combinations

Winners

Your winnings

1
6
-
₫ 47.209.898.500,00
2
5
12
₫ 10.000.000,00
3
4
1.302
₫ 300.000,00
4
3
21.957
₫ 30.000,00
Winnings may be subject to tax in the country of the lottery.
Vietnamese Mega 6/45 Lottery Results
Vietnamese lotteries are very special. Why did we decide to offer you to play these games? Mega 6/45 and similar lotteries are inexpensive, apprehensible and in every sense affordable entertainment that can significantly improve your financial well-being. You can check your luck three times a week: Mega 6/45 draws take place every Wednesday, Friday and Sunday.
In this section you can see the breakdown of the Mega 6/45 prizes by category. Playing the Vietnamese lottery, you can win one of four types of prizes: the minimum prize is always 30.000 VND, the third largest prize is 300.000 VND, the second prize always equals 10.000.000 VND, and finally, you can win the Jackpot that cannot be less than twelve billion dongs.
You can check Mega 6/45 draw results in many different ways. Firstly, you can watch the record of the draw on the official website or in the official Vietlott YouTube channel. Also, you can get acquainted with the game results in this section, in your personal account (just look in the "My Entries" section), or just check your email: we will send you the results of all lottery draws in which you will take part.