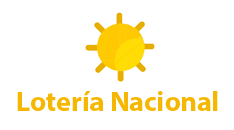 Closing in 382719
€ 105.000.000

Draw result Lotería Nacional
| Prize category | Winning combinations |
| --- | --- |
| Special prize | 44168 + 10 + 1 |
| 1st prize | 44168 |
| 2nd prize | 63561 |
| Codes +1 larger or -1 smaller than the 1st prize | 44169, 44167 |
| Codes +1 larger or -1 smaller than the 2nd prize | 63562, 63560 |
Prize breakdown
| # | Prize category | Number of prizes | Prize for one tenth |
| --- | --- | --- | --- |
| 1 | Special prize | 1 | € 1.487.000,00 |
| 2 | 1st prize | 1 | € 130.000,00 |
| 3 | 2nd prize | 1 | € 25.000,00 |
| 4 | Codes with the same last 4 digits as the drawn numbers | 50 | € 375,00 |
| 5 | Codes with the same last 3 digits as the drawn numbers | 1.500 | € 75,00 |
| 6 | Codes with the same last 2 digits as the drawn numbers | 2.000 | € 30,00 |
| 7 | Codes +1 larger or -1 smaller than the 1st prize | 2 | € 2.400,00 |
| 8 | Codes +1 larger or -1 smaller than the 2nd prize | 2 | € 1.532,50 |
| 9 | Codes with the same first 3 digits as of the 1st prize (not awarded to the 1st prize winners) | 99 | € 75,00 |
| 10 | Codes with the same first 3 digits as of the 2nd prize (not awarded to the 2nd prize winners) | 99 | € 75,00 |
| 11 | Codes with the same last 3 digits as of the 1st prize (not awarded to the 1st prize winners) | 99 | € 75,00 |
| 12 | Codes with the same last 2 digits as of the 1st prize (not awarded to the 1st prize winners) | 999 | € 75,00 |
| 13 | Codes with the same last digit as of the 1st prize (not awarded to the 1st prize winners) | 9.999 | € 15,00 |
| 14 | Reintegro 1 is a separately drawn number, matching the last digit of the codes | 10.000 | € 15,00 |
| 15 | Reintegro 2 is a separately drawn number, matching the last digit of the codes | 10.000 | € 15,00 |

All Lotería Nacional winnings over € 2,500 are subject to federal tax of 20%. The tax applies to the difference between the amount of the winning and € 2,500.

See the latest results of Lotería Nacional
Lotería Nacional is a popular Italian lottery, the first ticket of which was sold in 1811. Since then, the lottery doesn't lose the title of the most beloved national lottery at home and abroad! Lotería Nacional is a monthly game with the best odds to hit the Jackpot in the world.


See the results of the lottery Lotería Nacional in this section. It's very convenient to check the latest results of Lotería Nacional here: just compare the numbers on your lottery ticket with the data in the table. We keep the results of the Italian state lottery for the previous drawings.


The results of Lotería Nacional are published shortly after each drawing. Nonetheless, you don't need to every time move to our website to check if the latest winning numbers of Lotería Nacional are available for you. Once we receive the official results, we'll send you a notification by e-mail and invite you to visit the site and check the numbers.
Why Lotto Agent?
Easy payments

Security

Best deals

24/7 Support
We paid out to winners:
$ 50.382.785
Over 4.729.020 winnings worldwide!