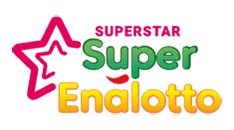 Closing in 172140
€ 1,3 Million

€ 1,3 mln € 1,3+ Million

Draw result SuperStar
Winning numbers
Prize breakdown
#

Matched combinations

Winners

Your winnings

1
6+1PB
-
No winners
2
6+0PB
-
No winners
3
5+J+1PB
-
No winners
4
5+1PB
-
No winners
5
5+J+0PB
-
No winners
6
5+0PB
6
€ 30.055,71
7
4+1PB
4
€ 43.096,00
8
4+0PB
432
€ 430,96
9
3+1PB
73
€ 3.294,00
10
3+0PB
16.857
€ 32,94
11
2+1PB
1.378
€ 100,00
12
2+0PB
298.202
€ 5,75
13
1+1PB
9.939
€ 10,00
14
0+1PB
22.785
€ 5,00
Winnings may be subject to tax in the country of the lottery.
Check the SuperEnalotto Superstar lottery ticket for winning
SuperEnalotto Superstar is a special version of the popular Italian lottery SuperEnalotto which in addition to the bonus ball has also a special ball Superstar. The Superstar ball affects the prize categories "5+1PB" and "5+J+1PB". It means that the famous Italian lottery in addition to the Jackpot has at least two prize categories with huge cash prizes.
The national lottery SuperEnalotto Superstar has 13 prize categories, so it is considered to be the record for the number of prize categories. The table above includes the results of SuperEnalotto Superstar taking into account the additional balls Jolly and Superstar. You can also watch the SuperEnalotto video draw online: both fresh broadcasts and archival records.
If for some reason you are not able to view the SuperEnalotto Superstar winning numbers online, we will send you the results of each drawing you take part in by e-mail, and your gain will be credited to your personal account on our website.