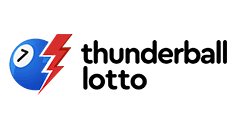 Closing in 1994
£ 500 Thousand

£ 500 K £ 1 Million

Draw result Thunderball UK
Winning numbers
Prize breakdown
#

Matched combinations

Winners

Your winnings

1
5+1PB
-
£ 500.000,00
2
5+0PB
-
No winners
3
4+1PB
20
£ 250,00
4
4+0PB
317
£ 100,00
5
3+1PB
680
£ 20,00
6
3+0PB
10.355
£ 10,00
7
2+1PB
7.367
£ 10,00
8
1+1PB
27.782
£ 5,00
9
0+1PB
33.454
£ 3,00
Thunderball UK, like other British lotteries, isn't taxable.
Check winning numbers of Thunderball UK here
Thunderball UK has an English quality: in 1999 it became the second truly national British Lottery after UK Lotto. For a relatively short history of existence, the national lottery won the hearts of not only local residents, but also foreigners.
Check out the Thunderball UK lottery draws that take place almost every other day if you like to play often! The prizes of this wonderful British lottery are drawn in nine prize categories, besides, each player has the right to win a prize of 500.000 pounds sterling in each game.
Thunderball UK draw results are published shortly after each draw. However, you don't need to go to our website to find out the results of the draw of the British national game. We'll send you the latest Thunderball winning numbers, like of other British state lotteries, by email.