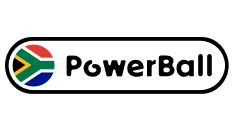 Closing in 8230
R 11 Million

R 11 mln R 22 Million

Draw result South Africa Powerball
Winning numbers
Prize breakdown
#

Matched combinations

Winners

Your winnings

1
5+1PB
-
No winners
2
5+0PB
1
R 624.794,20
3
4+1PB
39
R 10.032,00
4
4+0PB
614
R 1.080,30
5
3+1PB
1.551
R 483,60
6
3+0PB
28.278
R 22,10
7
2+1PB
20.849
R 22,50
8
1+1PB
112.087
R 15,00
9
0+1PB
184.392
R 10,00
Powerball SA winnings are tax-free in South Africa.
Check the Powerball SA lottery winning numbers
The South African Powerball, despite some similarities, differs from the Australian and American versions. The game was launched to raise funds for charity, and South Africans fell in love with its fun and simple rules. Here players match a combination of 5 numbers out of 50 and an additional Powerball number, selected from a set of numbers from 1 to 20.
You have a unique opportunity to place bets on the results of the Powerball SA draw. The lottery draws are held twice a week — on Tuesdays and Fridays, and the prizes are divided into 9 categories. Prize amounts for the last two tiers are fixed, while the rest are a share of the total prize pool. Jackpots are drawn from a guaranteed amount of several million rand and can grow significantly in subsequent draws.
In this section, you can view Powerball SA results and draw tables by total winnings in each prize category. You can also find out the results through the notifications that we send to your email. The notifications contain all the information about the winning numbers and the amount of your prize. The winnings are credited to your Lotto Agent account. You can withdraw it later.